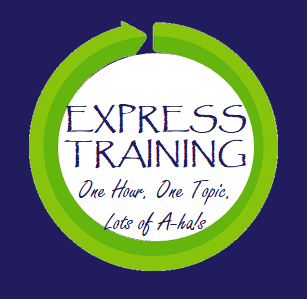 Merriam-Webster.com defines express as
1) said or given in a clear way and
2) traveling with few or no stops along the way
We intend for these Express Training sessions to be just that: 
clear information delivered in a concise format. Janet Jackson, owner of Organization Solutions, LLC, is a consultant and trainer on workplace organization, productivity and efficiency. Join her each month for one hour as she shares one specific tool that you can learn and implement immediately!
One hour. One topic. Lots of A-ha!s
December 2023: No Express Training – Enjoy the Season!
There's no Express Training this month but you can still learn one topic, in one hour, with lots of A-ha!s and for the same price! Just peruse our Content Catalog at www.ABetterWayTo.co and find a session that interests you. 
January 10, 2024: Ask the Organizers 2024
January is National "Get Organized Month" and for our third year in a row, we're celebrating with an expert panel. This year's expert panel includes members of my own team: Nancy Kruschke, Tonya Neihardt, and Kathryne Reed. All three have extensive backgrounds in the organizing industry and now help me help my clients. The experts will answer questions and share their best organization and productivity tips for work, home, and life! Start making your list and we'll help you find a better way!
Because I'm so passionate about organization as a means to productivity and personal efficiency, I'm offering this Express Training at no charge! (Registration is still required)
2024 Topics Coming Soon!
We should have our 2024 spring line-up set by December 15th. Be sure to check back then!
Session Info: 
Time: 12:30-1:30pm
Location: Virtual. Instructions for joining will be sent prior to the Express Training.
Other Important Details:
If you are a tax-exempt organization, 

contact us

 for billing.

Registration closes two days prior to the Express Training.
Please plan to join 5 mintues prior to start time.
Have your handouts (emailed prior to the Express Training)
Feel free to enjoy your lunch while learning
Cancellation Policy:
Though we would hate not seeing you there, we understand that things come up and plans must change. If you are unable to attend the session, feel free to share your registration with someone else. (Be sure to let us know who so we can send them this information!) Otherwise, let us know you can't attend and, if the content is recorded, we'll make sure to tell you when it is published and available on the eLearning site. If the session was not recorded, you may choose another eLearning session of your choice in exchange for your registration. Cancellations or changes may be made by contacting us at office@organizationsolutionsllc.com.