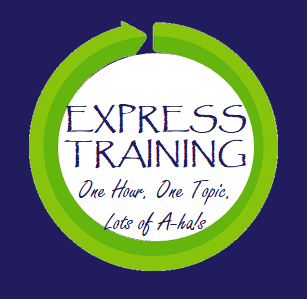 Merriam-Webster.com defines express as
1) said or given in a clear way and
2) traveling with few or no stops along the way
We intend for these Express Training sessions to be just that: 
clear information delivered in a concise format. Janet Jackson, owner of Organization Solutions, LLC, is a consultant and trainer on workplace organization, productivity and efficiency. Join her each month for one hour as she shares one specific tool that you can learn and implement immediately!
One hour. One topic. Lots of A-ha!s
September 14, 2022  Creating Process Flows using Microsoft PowerPoint
Edward Deming said, "If you can't describe what you are doing as a process, you don't know what you're doing." Whether you are looking to standardize the way you do things, position for (or catch up to) growth, or even prepare for key employee turnover or the sale of a business, documented processes are critical to continued success. In this session, I'll share the process I use for documenting processes with my clients using a tool you likely already know, PowerPoint. 
Registration closed. Hope you can join us next month!
October 12, 2022 Microsoft Excel: Charts & Dashboards
Charts are a great way to visually display your summarized data. They are quick to view, quick to understand, but not always so quick to set up. In this class, we'll help you create charts in a better way. We'll go over the methods available to summarize your data, how to create a chart, and how to customize it to make it truly yours. We'll also talk about dashboards and how you can create one with charts.
November 9, 2022 Microsoft Word: Tables
In certain instances, inserting a table in Word just might be the perfect solution in a Word document. Janet will share instances when and why she's used a Word Table instead of an Excel spreadsheet. She will also teach you how to create, format, and use your own tables. If you create labels, this session is a must!
Attendance Options: 
8:15-9:15am, Join us Online
Instructions for joining will be sent prior to the Express Training
12:30-1:30pm, Join us live in Piqua
Piqua Area Chamber of Commerce
326 N. Main Street, Piqua, OH 45356
12:30-1:30pm, Join us Online
Instructions for joining will be sent prior to the Express Training
Other Important Details:
If you are a tax-exempt organization, 

contact us

 for billing.

Registration closes two days prior to the Express Training
Doors open 15 minutes prior to the event for anyone who wants to come early and get settled.
Bring your handouts (emailed prior to the Express Training)
Bring your lunch/breakfast (optional)
Bring your computer (optional)
Cancellation Policy:
Though we would hate not seeing you there, we understand that things come up and plans must change. If you are unable to attend the session, feel free to share your registration with someone else. (Be sure to let us know who so we can send them this information!) Otherwise, let us know you can't attend and, if the content is recorded, we'll make sure to tell you when it is published and available on the eLearning site. If the session was not recorded, you may choose another eLearning session of your choice in exchange for your registration. Cancellations or changes may be made by contacting us at office@organizationsolutionsllc.com.