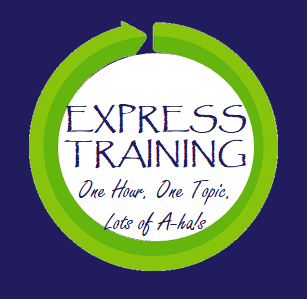 Merriam-Webster.com defines express as
1) said or given in a clear way and
2) traveling with few or no stops along the way
We intend for these Express Training sessions to be just that: 
clear information delivered in a concise format. Janet Jackson, owner of Organization Solutions, LLC, is a consultant and trainer on workplace organization, productivity and efficiency. Join her each month for one hour as she shares one specific tool that you can learn and implement immediately!
One hour. One topic. Lots of A-ha!s
May 11, 2022    Microsoft Word: Mail Merge
The trick to using Mail Merge well is knowing all the tricks in Mail Merge! Maybe you knew it back when a Wizard immediately walked you through the steps but the newer versions of Microsoft Word have left you stumped. Or perhaps you've never taken the time to work with Mail Merge at all. It's actually a very simple tool but the most important step is setting up your list correctly from the start. I'll go over that, as well as, how to merge that list into a document or label. You will be surprised by how easy it is to use and just how many ways you can use it. (It's not just for letters and envelopes!)
 Sorry you missed it. Recording coming soon!
June 2022    No Express Training – Enjoy the Start of Summer!
There's no Express Training this month but you can still learn one topic, in one hour, with lots of A-ha!s and for the same price! Just peruse our Content Catalog and find a session that interests you. We recommend the first session in A Better Way to Use Excel: Creating an Effective Spreadsheet. (It will set us up nicely for July's Express Training.)
July 13, 2022  Microsoft Excel: PivotTables
A smart PivotTable is one of my most favorite things and often a key solution to simplifying a business process.  You can quickly and effortlessly organize and analyze your data in countless ways, often with no formula writing involved.  If you deal with lots of data, I think you're going to like this session.
August 10, 2022  Better Expectations
The dictionary defines managing expectations as "seek to prevent disappointment by establishing in advance what can realistically be achieved or delivered by a project, undertaking, course of action, etc." Imagine how much easier life/work would be if we all managed our expectations of ourselves and of others. Let's dive into how we can better manage our expectations and prevent disappointment.
Attendance Options: 
8:15-9:15am, Join us Online
Instructions for joining will be sent prior to the Express Training
8:15-9:15am, Join us live in Piqua
Piqua Area Chamber of Commerce
326 N. Main Street, Piqua, OH 45356
12:30-1:30pm, Join us Online
Instructions for joining will be sent prior to the Express Training
Other Important Details:
Registration closes two days prior to the Express Training
Doors open 15 minutes prior to the event for anyone who wants to come early and get settled.
Bring your handouts (emailed prior to the Express Training)
Bring your lunch/breakfast (optional)
Bring your computer (optional)
Cancellation Policy:
Though we would hate not seeing you there, we understand that things come up and plans must change. If you are unable to attend the session, feel free to share your registration with someone else. (Be sure to let us know who so we can send them this information!) Otherwise, let us know you can't attend and, if the content is recorded, we'll make sure to tell you when it is published and available on the eLearning site. If the session was not recorded, you may choose another eLearning session of your choice in exchange for your registration. Cancellations or changes may be made by contacting us at office@organizationsolutionsllc.com.