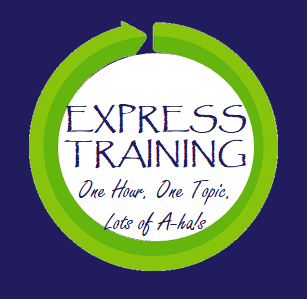 Merriam-Webster.com defines express as
1) said or given in a clear way and
2) traveling with few or no stops along the way
We intend for these Express Training sessions to be just that: 
clear information delivered in a concise format. Janet Jackson, owner of Organization Solutions, LLC, is a consultant and trainer on workplace organization, productivity and efficiency. Join her each month for one hour as she shares one specific tool that you can learn and implement immediately!
One hour. One topic. Lots of A-ha!s
March 8, 2023:  Restricting & Protecting Data
Scared someone will mess things up in your beloved spreadsheet? In this session, we'll discuss various options for protecting your information and restricting what others can see and do in a spreadsheet. Topics include file level passwords and protection, locking cells, protecting a spreadsheet, and data validation. These settings will apply to any version of Microsoft Office that you are using!
Registration is closed. Join us for next month's Express Training!
April 12, 2023:  Windows 11: Tips & Tricks
For every new version of Windows, there are new features that are not apparent unless someone tells you about them. In this course, we will review these features including desktop tricks, start menu tips, and tools to help you navigate the newest version of Windows efficiently. I'll also share my go-to Windows keyboard shortcuts.
Attendance Options: 
8:15-9:15am, Join us Online
Instructions for joining will be sent prior to the Express Training
12:30-1:30pm, Join us live in Piqua
Piqua Area Chamber of Commerce
326 N. Main Street, Piqua, OH 45356
12:30-1:30pm, Join us Online
Instructions for joining will be sent prior to the Express Training
Other Important Details:
If you are a tax-exempt organization, 

contact us

 for billing.

Registration closes two days prior to the Express Training
Doors open 15 minutes prior to the event for anyone who wants to come early and get settled.
Bring your handouts (emailed prior to the Express Training)
Bring your lunch/breakfast (optional)
Bring your computer (optional)
Cancellation Policy:
Though we would hate not seeing you there, we understand that things come up and plans must change. If you are unable to attend the session, feel free to share your registration with someone else. (Be sure to let us know who so we can send them this information!) Otherwise, let us know you can't attend and, if the content is recorded, we'll make sure to tell you when it is published and available on the eLearning site. If the session was not recorded, you may choose another eLearning session of your choice in exchange for your registration. Cancellations or changes may be made by contacting us at office@organizationsolutionsllc.com.